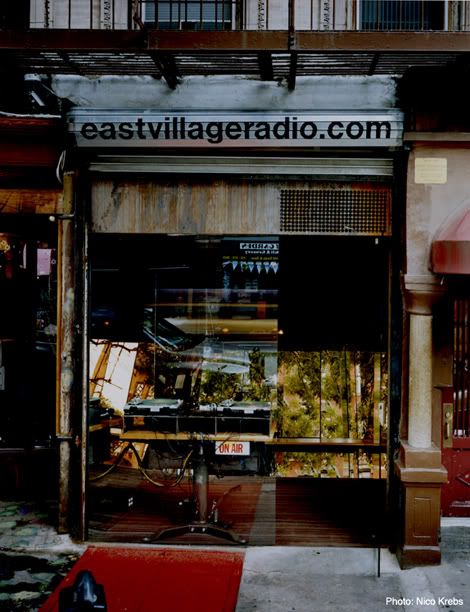 East Village Radio | Internet Radio Station
21 First Avenue, New York City
Established June 2003
Located in a striking glass and mirror storefront at 21 First Avenue at the epicenter of one of the most vibrant neighborhoods on the planet, EastVillageRadio.com has been broadcasting and streaming since June 2003. Commercial-free, uncensored and unformatted, the East Village-centric EVR is home to a deli menu of independent music, talk and news shows. From unsigned bands, to obscure sounds and local news, EVR is an electric, eclectic and edgy portal into Downtown culture.
EVR was formed by—and is funded (along with program sponsors)—by Downtown music head and restauranteur Frank Prisinzano (also the owner of Supper, Frank, and Lil' Frankie's Pizza)*. Commerical-free and uncensored, EVR is a portal though which the station's over 60 DJs and hosts provide sixteen hours of free live programming a day, in two hour show blocks, seven days a week.
While the station has its stars like DJ Mark Ronson, the crew from The Fader Magazine or Tummy Touch Records' Tim "Love" Lee, EVR is a truly democratic collective of dynamic, passionate and quirky DJs and personalities, each of whom make the most of their given time slot. From austere experimental electronic music ("Minimal Electronic Plus," "The Continuous Mammal") rare 45 and 78rpm vinyl ("Planet 45," "Generation X Y JaZz"), hip hop ("The Let Out," "Authentic Shit") deep house, disco, and italo ("Analog Soul," "House Nation," "Short Bus Radio,") to raunchy gay fun "D-List Radio") to local politics ("Loisaida Culture Wire") EVR irreverently rocks it indie style. (Check the schedule HERE.)
Reflecting—literally (that glass, those mirrors!), aurally (the mics often pick up streetlife, chatter, sirens), and figuratively (it's just cool, mmkay?)—EVR's vibrant East Village neighborhood, the station has a loyal following. Fans around the corner (who often pop by during their favorite shows) are as loyal as those around the world (who IM throughout while listening), EVR is clearly not Clear Channel, and indie music fans are roaring in approval. READ FULL EVR BIO
LOCATION SCOUTS:
The very cool storefront EVR studio on First Ave. between First and Second Streets in the East Village is available for shoots. It is a small space (perhaps the smallest you've ever considered), but very cool, full of angled mirrors and DJ equipment. The studio is active, but we are up for renting the space with the right contract. Access to additional electrical outlets and office space for hair/make-up (if you don't have a trailer) can be arranged. Take a look at the EVR STUDIO SLIDESHOW and get in touch if you're interested. Note: One of the images in the slideshow is of the one-way glass window that looks into the EVR studio from Lil' Frankie's Pizza.
EVR | EVR BIO | EVR SLIDESHOW (300DPI IMAGES ON REQUEST) | MY SPACE
PENETRATION ON EVR
---
EVR IN THE PRESS | EVR ON CW11 MORNING NEWS